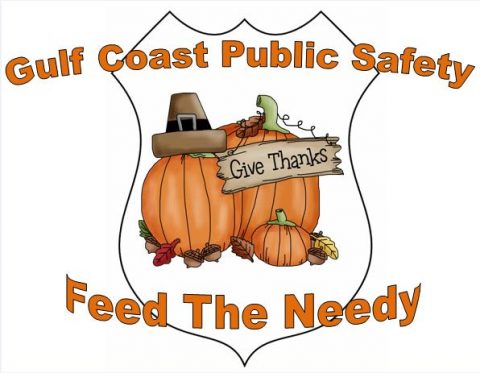 The Gulf Coast Public Safety Feed the Needy Program has begun its 2017 campaign to deliver hot meals to the homes of those less fortunate on Thanksgiving Day.  The Gulf Coast Public Safety Feed the Needy Program is a successful collaboration between Public Safety Agencies and generous donors of Time, Money, and Goods.  2017 will be the 28th Year that this program has been going strong.  This successful program has grown from feeding a few to providing approximately 4,600 meals per year to those in need during the holiday times. The Feed the Needy Program is funded by donations only.  In addition, it relies on hundreds of volunteers that donate their time to the program each year.
To order a meal for any needy person please contact one of the sponsoring agencies; Biloxi Police Department 228-385-3033, D'Iberville Police Department 228-396-4252, Gulfport Police Department 228-868-5703, Gulfport Fire Department 228-868-5950, Harrison County Sheriff's Department 228-896-0606, Long Beach Police Department 228-865-1981, and Pass Christian Police Department 228-452-3302.
To make a donation and help to make this a Happy Holiday for those who may be less fortunate contact Lt. Mike Shaw, Gulfport Police Department, 228-868-5703.  You can also mail to Gulf Coast Law Enforcement Feed the Needy, attn: Lt Mike Shaw, 2220 15th Street, Gulfport, MS 39501.
Volunteers wishing to help package and deliver meals should report to Lyman Community Center, 13472 Highway 49, Gulfport, MS at 8:00 a.m. on Thanksgiving morning.  Deliveries will begin at 9:00 a.m.